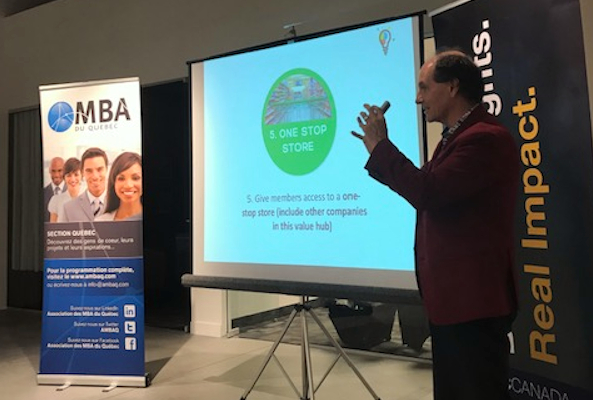 Pour l'occasion, les participants ont eu la chance d'entendre M. Bill Bishop, célèbre conférencier, entrepreneur, coach en entreprise et auteur. Sa conférence portait d'ailleurs sur son plus récent livre « The New Economy Thinker: Re-Wiring Our Minds to Succeed in the New Economy ». Des cocktails et quelques bouchées furent également offerts pour l'occasion.
C'est dans une ambiance décontractée que les participants ont pu en apprendre davantage sur TEC Canada, tout en profitant d'un moment privilégié avec M. Bishop suite à sa conférence pour poursuivre les échanges autour du thème central de la soirée.
Conférence de M. Bill Bishop
Sous le thème de "The New Factory Model", la conférence de M. Bishop mettait en lumière sa réflexion inspirante sur la nécessité pour les entreprises d'aujourd'hui de repenser leurs façons de faire des affaires afin de les recâbler aux nouvelles réalités du marché.
Pour avoir des informations supplémentaires sur Bill Bishop: https://www.bishopbigideas.com/
Pour avoir des informations supplémentaires sur TEC Canada: https://tec-canada.com
Cabico Boutique Québec, notre hôte pour cette soirée: https://cabico.com/fr/quebec-city/